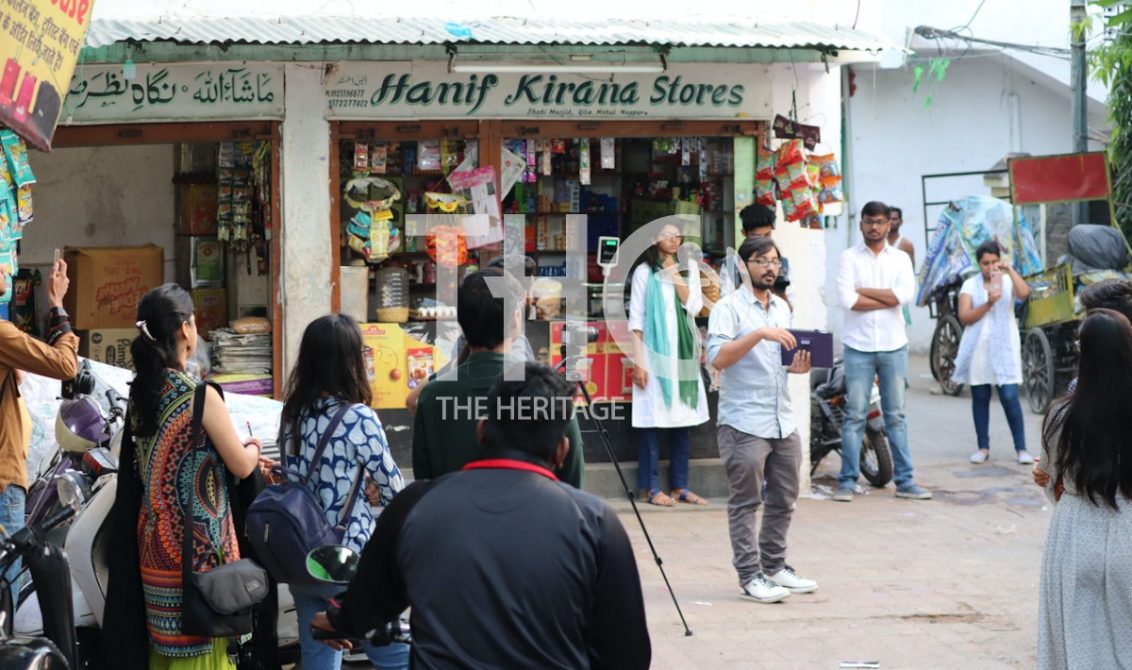 Specialist: Mr. Sandeep Sanjeev Pathe is an architect–conservator based in Nagpur, India where he works as the principal architect at Studio Sakha, the design firm that he founded. Sandeep is registered with the Council of Architecture (India) and is active in academia as a visiting professor for several Indian architectural institutes. While Ar. Pathe is actively working on many architectural projects, he has also developed an education initiative to raise community awareness about Nagpur's cultural heritage.
Introduction
In the last decade, the field of community engagement and heritage has developed considerably around the world. It has been said that the cooperation between local communities and stakeholders is a fundamental strategy for a better understanding and revitalisation of cultural heritage. The benefit of public accessibility and engagement with cultural heritage encompasses protecting, conserving and promoting cultural heritage and introducing the imperative of sustainability.
Although recent developments in community engagement have brought new perspectives, approaches and research methods, there is still a need to develop and improve methodologies to expand the dialogue between community workers and communities themselves (Apaydin 2018). The development of these strategies is not straightforward and it varies depending on many aspects, for instance the geographical/territorial context and the socio-cultural characteristics of the community.
This interview focuses on effective strategies and how community engagement entails sharing knowledge, learning through heritage and embracing life experiences of the communities to make cultural heritage relevant for current and future generations. In this case, the methodology is a series of cultural education initiatives currently taking place in Nagpur, India.
Questions
1. Can you briefly describe Nagpur and its urban evolution?
Nagpur is situated in the Maharashtra state of India and is its second capital. It was founded in 1702 A.D. by the Gond King Bhakt Buland Shah who made it the capital of the Gond Empire. Urbanistically, the town was simply formed by joining the nearby areas with roads, which created a better connection for the city to develop as an important centre for trade and commerce. Etymologically, the name Nagpur comes from the river Nag, which originates from Ambazari Lake and merges with the Kanhan river, and pur, which means city. According to the archaeological evidence and particularly based on the sculptures at Pauni (80 km from the city), the river is also believed to have been represented by snake iconography.
Since its founding, Nagpur has evolved and transformed.  Beautiful temples, palaces and houses known as wada can be seen together with several ceremonial gates. Public markets were built during the reign of the Bhonsale kings of the Maratha Empire. Later, the British contributed to its urban development by adding the precincts of administrative importance such as the high court building, the railway station, the general post office, the Office of District Collector, schools and churches.
Nowadays, the small historic town is developing as a hub for trade, industry and information technology, aided by its modern and rapid public transport systems and airport. I would define Nagpur as a versatile place since it is transforming fast, but it is also preserving its traditional value and its cultural roots. I simply love my Nagpur!
2. How is Nagpur characterised in terms of cultural heritage?

Nagpur has much to offer in terms of cultural heritage. In fact, due to its particular geographical position and ancient origin, it has witnessed many rulers. For example, the Satvahanas in the centuries before Christ, the Vakatakas in the third century, the Gonds in the eighteenth century, the Marathas in the nineteenth century and the British in the twentieth century. Each empire impacted on Nagpur's architecture, culture, cuisine and traditions creating an interesting mixture of heritage. Interestingly, in and around the city, one can admire the prehistoric caves of Bhivkund together with the popular 'diamond crossing' of Indian Railways, where trains running east-west cross those running north-south. As an architect and researcher, I find that many neighbourhoods were developed by their resident communities and are thus characterised by their own unique identity. These areas are very interesting to explore, experience and enhance.
Concerning the intangible aspect of heritage, the city is characterised by particular festivals such as Ram Navami Shobhayatra and Ganesh Utsav which are common in India while the Marbat and Maskarya ganpati festivals are unique to Nagpur. The term maskari in the Marathi language means act of humor and, in fact, the purpose of this festival is entertainment. The tradition of the Maskaraya Ganpati, also popularly known as Hadpakya Ganeshotsav, started in 1755. During one Ganesh Utsav, the ruler, Shrimant Raje Khandoji Maharaj Bhosale, had set out for battle. He returned home victorious but the Utsav had already concluded so to express his gratitude to Lord Ganesh, he installed another Ganesha idol, in effect extending the celebration for several days. The current celebration showcases traditional dance, drama and music forms.
The Marbat is a unique procession which has taken place in Nagpur each year since 1885 and was started as a popular protest against the British empire and its oppressive regime. Two effigies to represent all of the diseases and evil forces are carried around the city and, in the end, they are burnt as an apotropaic act.
3. How much do the locals know about their own cultural heritage?
Frankly, Indians are aware of their inheritance and their cultural identity. However, with the changing times and with the considerable ongoing social development, there is a risk of losing interaction with the past and its cultural narrative. I truly believe that this gap needs to be bridged to keep traditional cultural values and knowledge alive for future generations. For this reason, I think that having dialogues that connect people with the past, patronage and cultural possession is essential.
Taking Nagpur as a case study shows the drastic changes it has undergone since its origin as a fortified town. For example, the railway line that passes through the city divides it into two discrete sections: the old city and the new one. On the one hand, this tangibly represents a great example of modern progress; on the other hand, it brings a disconnection from the historic parts of the city. Thus, my team and I developed an education initiative called 'The Nagpur Tales' shaped as heritage walks with the addition of a dialogue.
 4. From a simple walk to a heritage dialogue: how and why did you come up with this idea?
I have always been fascinated by the idea of heritage walks because I believe it is a very simple and powerful strategy to help raise awareness among the citizens about the heritage core and identity of the city they belong to.
However, I wanted to change a few things in the existing pattern of conducting heritage walks. We have converted these weekly heritage walks into heritage dialogues by involving local residents who have been living in the historic neighbourhoods for generations. This strategy brings a real inclusive interconnection among people so they become a medium to link old residents with new residents and participants generally. In India, drinking tea together can further increase knowledge and dialogue and so we as organisers provide tea for participants. In fact, a line written on all the posters for heritage dialogues is 'Your tea is on us!' (fig. 1).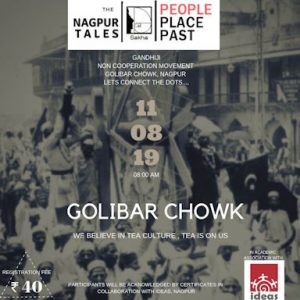 Moreover, we purposely do not have a walk leader as that can create a hierarchy since that figure often makes the walks one person-centric, meaning it does not stimulate dialogue. I think that these heritage gatherings of enthusiastic people must lead to discussions looking at the city's heritage core. Thus, dialogues promote much-needed social participation and interaction, which may lead to changes in the ideas for development and infrastructure in these heritage centres of the city. That alone needs a full hour!
In addition to the tea served communally in these historical lanes, we supplement the walks with brochures, postcards and other souvenirs to raise interest among participants about the overall experience in these heritage neighbourhoods. Also, 'The Nagpur Tales' are conducted in partnership with the Institute of Design Education and Architectural Studies (IDEAS) in Nagpur which distributes certificates for participants, to incentivise students' enthusiasm and participation in these kinds of education initiatives. This is how the idea originated and how the heritage dialogues aim to fill the cognitive gap between citizens, the modern-day Nagpur city and the old communities living in the city's rich cultural neighbourhoods.
6. Who are the participants and how do you usually structure a typical heritage walk? What is your role?
Participants are mostly students together with professionals, local residents and heritage property owners. We also invite scholars and academics from the disciplines of archaeology, architecture, history, culture and literature.
My role is to explain why we turned a heritage walk into a heritage dialogue and to introduce participants to our invited local residents. After this, the residents, my team and I take the group on a walk (fig. 2) and continue the heritage dialogue over a cup of tea. This is how the walk is structured.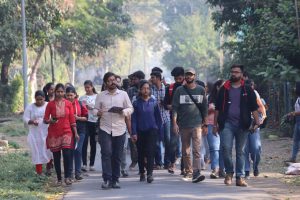 Clearly, this event requires preparation, so we efficiently use the seven days before to make an on-site visit, plan the circuit of our walk, and identify the locations for taking tea and the dialogue sessions. We also identify the parking areas so our participants can easily avoid traffic congestion. Once we have fixed everything, we create posters and open the registration, usually on a Monday, and close it on Saturday afternoon. Finally, on Sunday morning we are ready for the event.
7. How do the participants all interact with each other and how do they approach heritage? Do they enjoy this interaction?
I have to say that participants are very enthusiastic during the heritage dialogues and they enjoy their togetherness: eating food, drinking tea and having discussions (figs. 3-4). Each person interacts with heritage according to their hobbies: some like taking pictures or recording videos; others write about these particular areas. We note that very often these experiences are published on individuals' blogs or vlogs and for us this is an important achievement since it is the citizens who disseminate the uniqueness of their own neighbourhoods.
Interestingly, we also have children who come with their parents. Kids have an incredible curiosity about things we discuss and my team and I cannot really express our joy when we see those enthusiastic faces listening, raising concerns and questions about the neglected conditions of some neighbourhoods (fig. 5).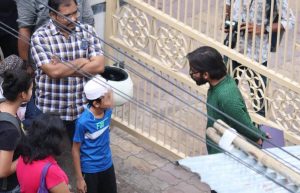 When we see people interacting with residents, I believe we have accomplished something special to bring social interaction about the city's heritage.
8. When was the first heritage walk re-established as a heritage dialogue and how many participants attended?
You know, this question reminds of me a really beautiful memory. In fact, it was my birthday, 27th August 2018, when we launched the poster for our first heritage dialogue. The event was planned for 2nd September 2018 in the Nagpur neighbourhood of Chitar Oli, and we had designed an attractive ticket for this event. I clearly remember that this first experiment was immensely popular: we had 98 participants and sold nearly 110 tickets. Since then, the heritage tickets have become an integral part of our heritage dialogues (fig. 8). They not only carry a coupon to exchange for tea on the day of the walk, but they also list the objectives for conducting the heritage dialogues and philosophical messages on how heritage should be handled by citizens.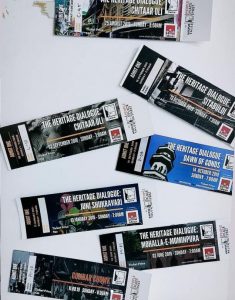 I have to stress that I am not the only one who makes such walks happen. For example, the first event was organised with my team including Ar. Srushti Tiwari, Ar. Devesh Chindhe, Ar. Akansha Dujari, and Pranil Pelne. This would have never been possible without my mentor, Prof. Abhay Purohit, as well as my dearest student-volunteers Aditi, Nathulal, Prince, Nidhi, Jahnvi, Vedangi, Vihang, Amruta, Mayuri, Renuka, Abhinav and Sanjushree. Finally, I extend my gratitude to my family for having always supported my ideas and believed in me and to almighty god.
9. Has the number of participants increased since the first time?
Well, the number of participants varies, but we usually do not pay much attention to numbers because even just a few people is important for us. My team and I observed that the number of participants depends on the choice of the neighbourhood and how we frame the overall historic narrative. In fact, we keep experimenting with the itinerary and we try to provide new explorations and new heritage dialogues which need to be organised every time. We try to select particular neighbourhoods such as Mominpura or we include mills and industries together with railway 'colonies' etc.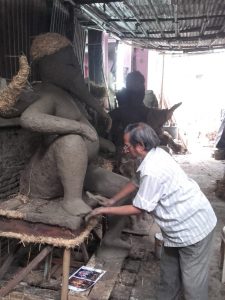 Moreover, we choose streets/lanes such as Chitar Oli which gets its identity from the artisans who are devoted to idols making (fig. 9). I can say that the number of participants ranges as high as 105 or as low as 20.
I still remember that for the dialogue we organised at the historic market neighbourhood of Juni Shukrawari in January 2019, only 20 people came. However, I enjoyed that walk since we had more time for exploration and the discussion on narratives from the past. It was very interesting.
10. How would you feel if this method of community engagement became widely adopted in your country or even beyond India?
It would be great if others take this initiative as an example or even if we get a chance to conduct heritage dialogues in other parts of the country. India, in fact, is a country which has incredible things to offer and I believe that every civilization has the responsibility to educate and raise awareness about its heritage and culture. Concerning the future of 'The Nagpur Tales', we would like to expand this initiative to other cities and we are currently designing 'The Gwalior Tales' and 'The Chandrapur Tales'.
We would be happy to collaborate with others and conduct these dialogues at a national and international level because our aim is to help people interact with and learn from their surroundings. I truly believe that every interaction is an opportunity to learn!

11. Are you developing other strategies to disseminate knowledge about heritage?
Yes. I say, 'Stories connect time and people together', and this is exactly the new idea developed from our heritage dialogues. In other words, I believe that narratives connect generations, for example, stories from grandparents are significant because they change their grandchildren's perceptions. Similarly, in our heritage cases, neighbourhoods and communities act exactly like grandparents telling stories. This powerful exchange of narratives helps transmit information to encourage dialogue and subsequently sensitises citizens about heritage so that eventually people start adding more value to their cultural inheritance.
Studio Sakha has also designed a unique workshop called 'Spending Time with Heritage' which operates according to principles taken from sociology. We help people approach heritage structures through their hobbies such as painting, sketching, photography or writing because these creative activities reinforce the bond of people and heritage (fig. 10). Usually, we ask participants to submit their artworks and in return, we give them a 'time receipt' as an acknowledgement for their time spent with a heritage monument or site.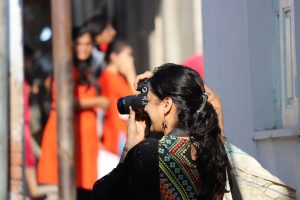 We are also responsible for a Summer Studio course titled 'Documenting the Undocumented' in which we teach lessons on documenting historical structures. The workshop is conducted by a conservation architect who asks participants to document the unlisted and undocumented heritage properties. The vast majority of these properties are privately owned and as such, they are unlisted as a significant heritage of the city. You may read more about such initiatives on our website.
12. I assume that behind all the organisation of all initiatives there is great scientific research? Is that right? Also, do you collect the stories/materials of the local communities and how?
Yes, we refer to books authored by historians of the city of Nagpur. In addition, we also study research papers on the historic evolution and urban transformation of the city. Other than the literature, we also believe that recording the oral stories/witness accounts of the locals helps to give us a complete picture and new perception about the heritage of the city itself. One such heritage dialogue, 'What's in a name: Sitabuldi' (see the video below), discussed the neighbourhood of the gawalis, who traditionally specialised in animal husbandry for dairy products. Nowadays, it is the busiest market for goods ranging from electronics to cloth to footwear. These histories about Sitabuldi helped us to listen to the unheard narratives of people and all have been collected and are now preserved for future generations.
 The footage shows Ar. Sandeep speaking during the event which took place in Sitabuldi.
We really encourage the participation of local residents and very often they also bring old photographs and property records such as old letters, postcards, stamps from rulers and government authorities. Some of them have travelogues from foreign researchers who came to this place for heritage studies in the past. We are always incredibly impressed by how much is hidden in these lanes and we notice how easy it can be to lose such valuable information. The contribution of these people is clearly fundamental to our initiatives.
13. Do you receive funds from the institute you are associated with? How do you take care of all the expenses you have like the brochures and souvenir cards?
Not really, we manage our expenses on our own as a firm. We aim to collect nearly 75% of our expenses through heritage tickets purchases. Since 2018, there has been an increase of only 20 INR (about 30 U.S. cents), but my team and I strongly believe that this is an education initiative and not a source for profit. Therefore, we do not mind some economic loss. Certainly, it would be great if we could get some funding from local authorities or NGOs since we are in the process of completing a publication about the narrative scripting of Nagpur. I must highlight that we are associated with IDEAS, which facilitates and certifies our initiatives, adding academic value so we don't expect any funds from that association. Still, the institution is close to my heart since I graduated from that school.
14. Sandeep, the last question for you: What would you like to achieve in the future?
Since I started this initiative, I have always wanted to go beyond walks and dialogues. For this reason, in the research cell of Studio Sakha we are turning all these interactions and historic narratives into a publication. We encourage participants to share their names and photographs with us to be included. In this way, I hope to see our research project, called the 'Narrative scripting of Nagpur' as part of the larger 'Narrative scripting of cities'. This publication will include a collection of written and oral stories and folklore that documents the architecture of these lanes and neighbourhoods as detailed in interviews with the residents. Our initial plan was to distribute these publications by May 2020, but sadly the current pandemic slowed down this plan. Despite that, we will do it as soon as we can.
We also want to improve our activities to make the best experience for our participants, and for this reason, my team and I request feedback from our participants, asking them a few questions regarding their viewpoints about future developments inside these neighbourhoods and the historic cores of the city, encouraging them to rate the choice of locations, literature studies and the brochure information so we can further improve our format.
Since January 2020, Studio Sakha has had a dedicated team of six research interns who are architecture students interested in working with us on practical aspects of our research with a tenure of one year. They are helping make the research on the 'Narrative scripting of cities' into reality. Thus, I really must thank these passionate researchers: Roshni Kunuri, Samruddhi Khare, Shubham Kumar, Nakka Vineetha, Anjaly Binoy and Vignesh Varma.
Finally, I have to say that we were able to make dreams came true thanks to the presence and support of my sakhas (a Sanskrit term for friend) who have always believed in me and who share the same goals. I really want to thank the core of this incredible team: Ar. Srushti Tiwari, Ar. Devesh Chindhe, Ar. Aakash Baraiya, Ar. Pratik Sarve, Ar. Shivani Malewar, Ar. Samruddhi Giri and Pranil Pelne. You know, we like calling Studio Sakha 'the studio of enthusiasm' and it really is!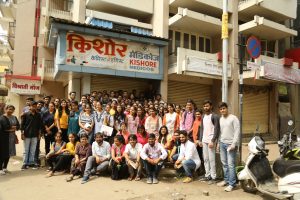 Conclusion
The Heritage Call warmly thanks the architect Sandeep Pathe for sharing his knowledge with us. It was a great pleasure discussing this interesting initiative with him and to have learned a bit about Nagpur city.
From this discussion, it emerges that heritage is better understood and preserved by the local communities, as their participation in and responsibility for their heritage from the outset is essential to reach a common understanding of the objectives connected to it. To best shape this action space, having the cooperation of all stakeholders is essential.
The method of community engagement from Ar. Pathe and his team seems to be very powerful and includes a multi-perspective approach. First, it includes education, since it aims to inform locals about important topics to stimulate their curiosity about heritage. Second, the dialogues also entail a public relations approach, aiming to render heritage important and relevant to locals through different techniques in a sustainable perspective. And finally, people coming together from different educational and social backgrounds allows them to experience different viewpoints on heritage so that they can better comprehend different yet related aspects of heritage while allowing for harmony and social inclusion.
Ar. Pathe and his team are continually experimenting with the effectiveness of their itineraries. This critical act is also reflected in the team asking for feedback from participants, which provides space to reflect critically on practices, refine and question their methodologies to empower their initiative, and to develop new ideas. The team has been able to help people experience heritage and has provided new information to younger generations, offered paths to deeper meaning, provoked resonance in all participants, and fostered respect for heritage and people in a very friendly and relaxing atmosphere. Finally, this great commitment of all the organisers pinpoints a universal concept: conserving heritage is significant because it reflects and builds community identities, promotes sustainability and provides a sense of place.
Again, thank you very much to Ar. Sandeep Pathe!
References
Apaydin V. (2018). Critical community engagement in heritage studies. In: Smith C. (eds). Encyclopedia of Global Archaeology. Berlin: Springer.
Pathe, S. and Khare, S. (in press). Establishing a participatory approach among communities and citizens towards the urban development within the Chitar Oli district of Nagpur, Maharashtra. Paper present at SURF – 2nd International Conference, 10th– 12th August 2020, Bearys Institute of Technology, Mangalore, India.
Pathe, S. (2018). Role of conservation professional in designing educational initiatives which result in establishing a sensitive approach towards the development of heritage zones in the old city of Nagpur. Paper presented at National Seminar on Emerging Trends on Architecture and Design, 28th March 2018 Amity University Gwalior, Gwalior, India, pp. 118-124.
Ripp, M. & Rodwell, D. (2016). The governance of urban heritage. The Historic Environment: Policy & Practice, 7(1), 81-1.
Wenger, E. (1998). Communities of Practice: Learning, Meaning and Identity. Cambridge: Cambridge University Press.
Websites
https://studiosakha.org/featured-in
https://ideasnagpur.edu.in/home/
Interview directed by Dr Barbara Mordà
Footage and pictures by courtesy of Ar. Sandeep Sanjeev Pathe
Sandeep's feedback on The Heritage Call: In my opinion, The Heritage Call is a wonderful initiative because it approaches heritage from a holistic point of view, involving experts and activists who can share, exchange and disseminate knowledge about their initiatives and personal experiences discussing specific themes.
I must say I am impressed by the name –The Heritage Call – and it is a reminder that we should never forget the call of heritage, because it is the reason for our existence, for our identity, so we need to respond to this call! I must congratulate Dr Barbara Mordà and her team for such a knowledgeable initiative and I warmly thank you, Dr Mordà, for inviting me for this stimulating discussion.