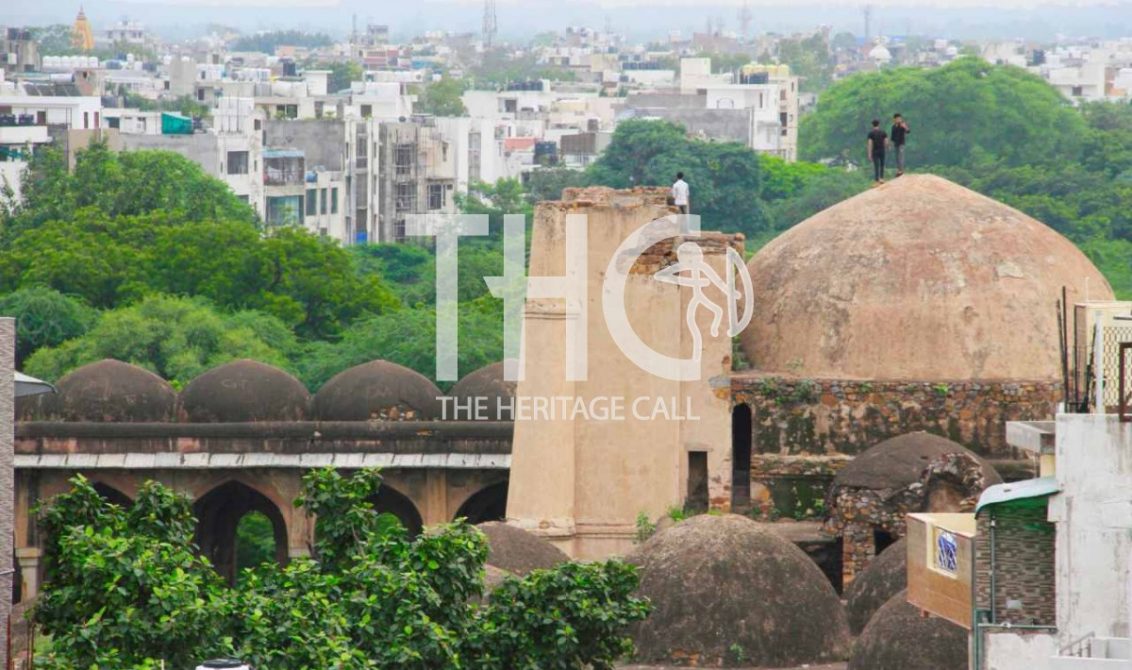 Mr Kulbir Singh is an Indian architect and an explorer; he is passionate about built heritage and particularly about the lesser known monuments of Delhi. His passion for heritage has made him create an Instagram account – the past packer – where he showcases Indian cultural heritage.
Introduction (by Nikki Petropoulos)

Throughout the world there are iconic pieces of cultural heritage that are stamped with protection and fame thanks to governments and NGOs that allow for their preservation. Alongside such monuments lay a plethora of lesser known sites that still hold great historical significance. Unlike more well-known heritage monuments and sites, these lesser known types are harder for people to find and explore and are often in much more of a dishevelled state due to their lack of safe keeping.
Mr Kulbir Singh writes about such monuments in Delhi and reminds us that just because these are not well known, they are still filled with interesting, exciting and rich cultural heritage that should be accessible and more widely known to all. Below Mr Singh takes us through his exploration of 3 tombs in Panj Burja Zamarudpur / Zamrudpur where another two remain to be explored once the Covid-19 pandemic is over.
---
The Lesser Monuments of Delhi
In terms of cultural heritage, the city of Delhi consists of three World Heritage Sites, 174 National Protected Monuments and hundreds of state-protected monuments. However, several unprotected and lesser known monuments are not on these lists where they belong. Both governmental agencies and several NGOs need to do their part in restoring these forgotten architectural masterpieces back to their original glory.
I have recently read the book The Forgotten Cities of Delhi written by Rana Safvi. The author rightly points out that "there are many cities within Delhi" given that it has been ruled by many dynasties before being passed to the hands of the British government. Many of these monuments are at risk of being lost forever, meaning that an important part of Indian history and identity will be lost with it.
After reading about these beautiful lesser known monuments, I decided to go and to personally visit them for India Lost and found by Amit Pasricha. Thus, I decided to share my experience here talking about a Lodi-period tomb located in south Delhi's Zamarudpur area.
Panj Burja Zamarudpur consists of 5 tombs which date back to the reign Sikander Lodi. In this period, the Sultan of Delhi (1489-1517 CE) a Jagir was given to an Afghan noble named Zamarud Khan in Kanchan Sarai and subsequently that area became known as Zamarudpur. Thus, his family was buried in the tombs there (Safvi 2018, p. 131).
This small urban village of Zamarudpur (Now Zamrudpur) is immediately adjoining the posh Greater Kailash (GK-1) area and here it is possible to see the first tomb (fig. 1). This tall construction is boxed in by adjacent buildings as the entire area is urbanistically unorganised because the construction norms and regulations, as specified under the Delhi Municipal Act, have not been followed.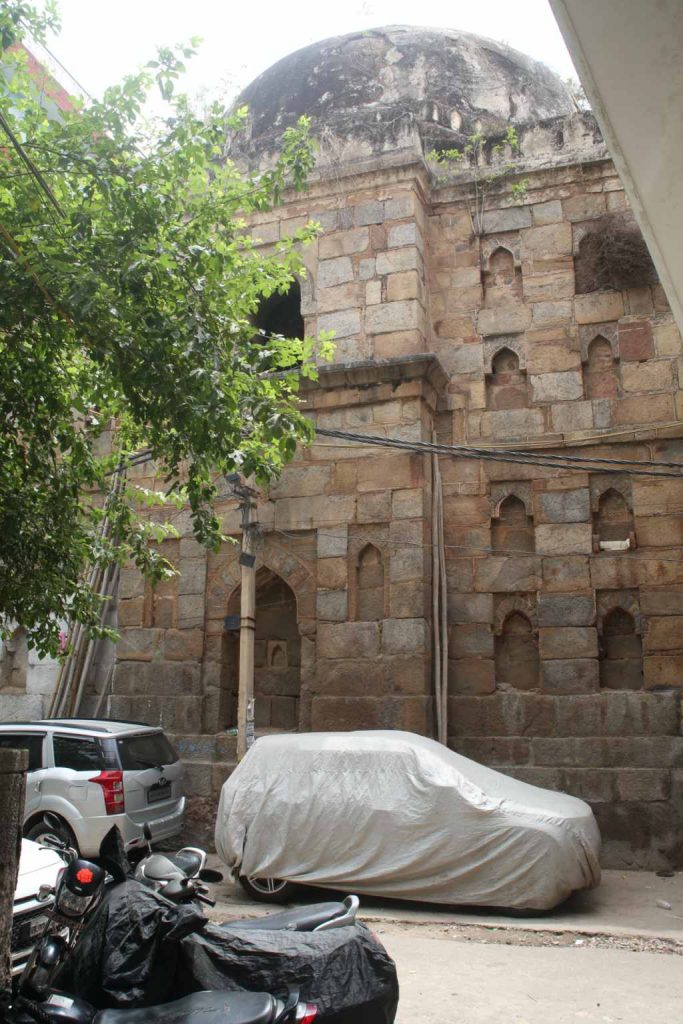 The conservative state of the first tomb is scarce and it presents a major structural crack in the dome (fig. 2). Yet, it has been illegally occupied by the locals.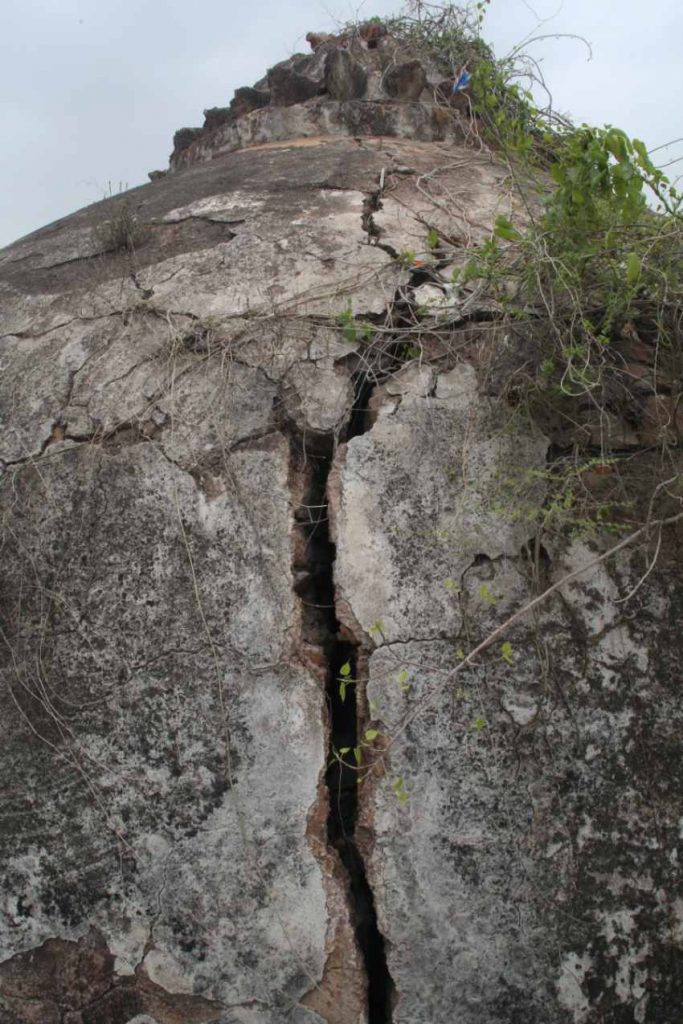 Following the list, I visited the second tomb (fig. 3) located behind the chaupal (a community hall). I followed the narrow lane which then opened onto a square with a baradari (an open pavilion with three attached openings on each side) on a high plinth with the look of a busy dhobi ghat (the washerman's ghat) (fig. 4). The tomb consists of a domed pavilion with twelve pillars in dressed stone. Traces of blue tile decoration is still visible on the battlements which crown the roof, and on the octagonal roof of the dome.
The third tomb I visited was really difficult to find because it was completely covered by tall residential buildings (fig. 5). Standing on dressed pillars, it has lotus kailasha on the half dome which now serves as a dumping ground (fig. 6).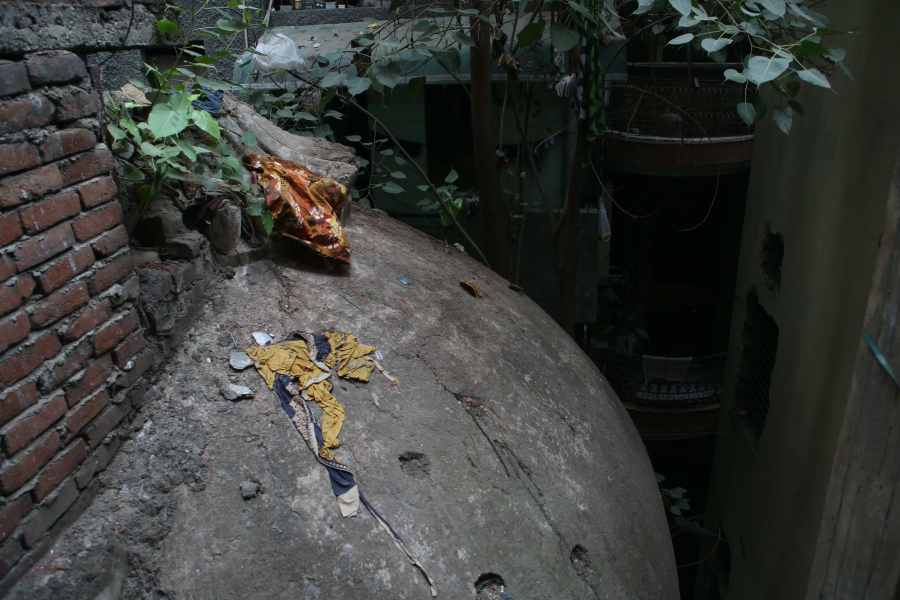 Of the 5 tombs, I have covered 3 as my exploration had to stop due to the current covid-19 pandemic, but I hope to visit the other two soon.
One of the reasons for sharing these monuments is because of their state of deterioration and encroachment. As an architect, noting that a great piece of Indian CH is endangered makes me feel mixed emotions due to its condition. INTACH and state archaeology department identified these complex-buildings in need of a facelift and urgent protection.
References
Safvi, R. (2018). The Forgotten Cities of Delhi. Noida: HarperCollins Publishers India.