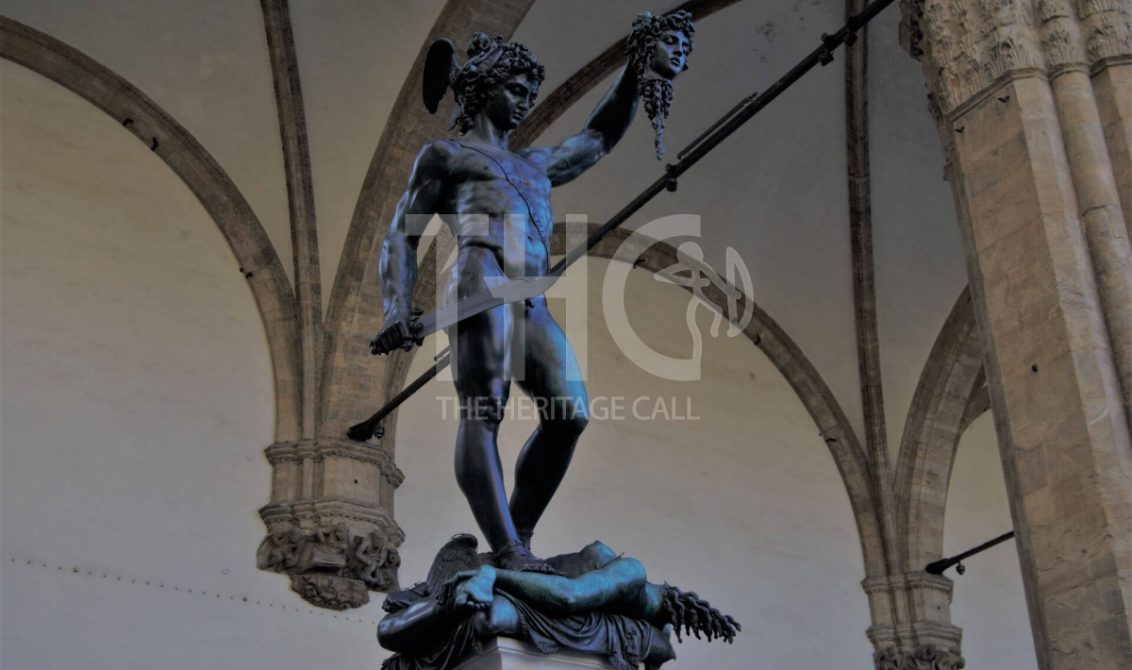 Ms Teresa Frisina is an Italian archaeologist who is very passionate about Art History:
I decided to take a picture of Benvenuto Cellini's bronze statue of Perseus holding the head of Medusa located in Loggia dei Lanzi in Florence's famous Piazza della Signoria, the city in which I am currently residing.
Between 1545 and 1554, Cellini worked under the commission of Duke Cosimo I de' Medici whose work represented the triumph of the Greek hero Perseus over Medusa which symbolically aimed to represent the power of the duke who had "cut off the head" of the Republic.
The statue has a height of 5,19 metres including the base, which has its own (separate) elaborate design. Here, I will discuss three facts concerning this work of art. Firstly, I would like to discuss the melting process. The statue was melted in one single casting with Cellini, in his autobiography (Vita), explaining in detail how difficult this process was. He states "La fatica la m'era insopportabile; e pure io mi sforzavo / The effort was unbearable but I pushed myself do it". Once the statue had cooled and before being placed in its final location in April 1554, a long process of polishing was undertaken which began in 1549.
Secondly, the statue seems to hide another work of art. In fact, if we look at the posterior part of the statue and precisely at the back of the helmet, it is possible to see a great optic effect which represents the face of a bearded and serious man representing the self-portrait of the same artist.
Lastly, Cellini asked for 10.000 scudi for this statue but Cosimo I de' Medici gave him only 3.500 scudi.
Whenever I walk around in Piazza della Signoria in Florence, I feel totally enchanted by the beauty and majesty of this statue. Its posture and the general representation of this extreme act always catches my eye.
The young Greek hero is beautifully represented naked (except for the complex decorated helmet, the shoulder-belt, signed by Cellini, and the winged sandals) as a triumphant victor standing on the contorted Medusa's body spewing blood from her neck (fig. 1).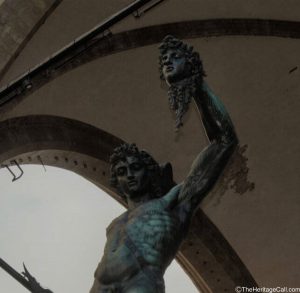 It seems to me that Perseus looks at the viewer while with his right hand holding the hilt of a sword with a saber tip and, at the same time, with his raised left hand holding Medusa's head (fig. 2). Despite the magnificence of the hero, I am also impressed by the Medusa's sneaky head spewing blood from her neck and particularly by her beautiful face with her closed eyes (fig. 3 ).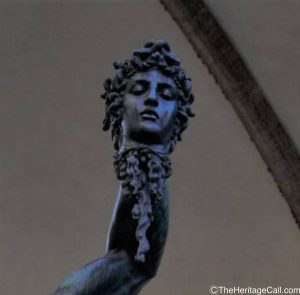 I shared this subject first of all because it is one of the masterpieces of the Italian Mannerist sculpture, but also for the choice of a Greek mythological subject being appropriated for contemporary political purposes and, of course, for the great effort of the artist, Benvenuto Cellini.