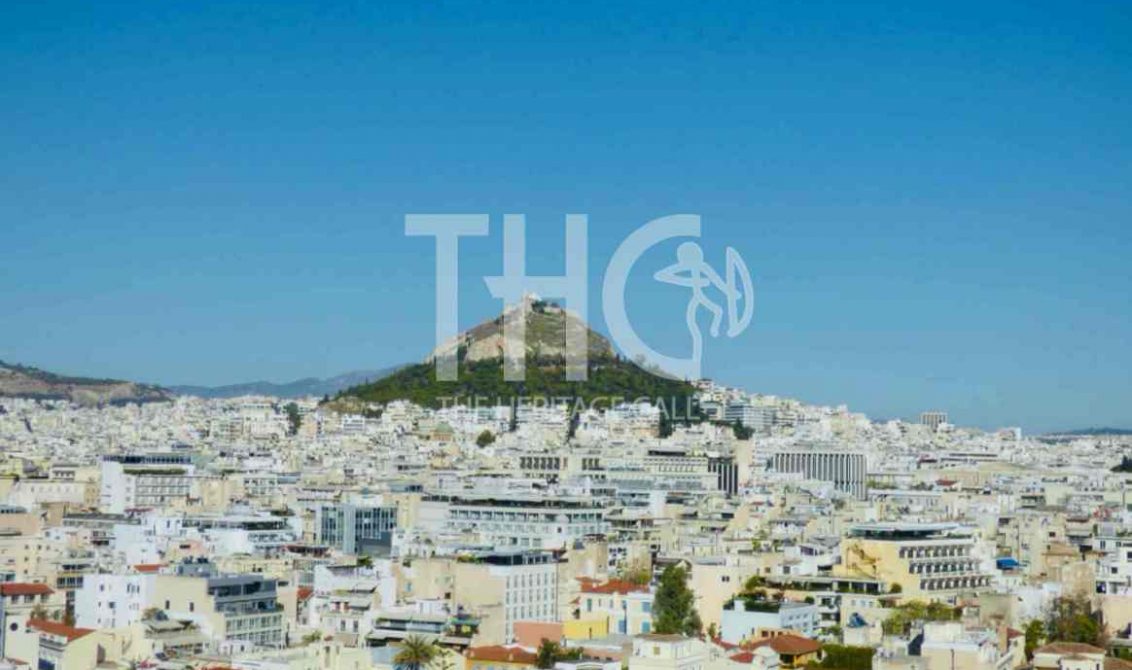 Dr Barbara Mordà, archaeologist and director of The Heritage Call:
For a couple of years, I had the opportunity to live in Athens, one of the most incredible cities in the world in terms of archaeological remains. Despite its fame for archaeology, I decided to discuss Mount Lycabettus which is located in the heart of Athens standing at 277 metres above sea level. Concerning its origin, there are several versions of its origin, one of which narrates the creation myth that the Goddess Athena, after having heard bad news, threw a rock which fell exactly where the hill of Lycabettus stands.
When I lived in Athens, I resided in the neighbourhood of Kolonaki which is close to its slope. As all capitals, Athens is a very busy and chaotic city and, therefore, for me being close to this mount had always represented a way to escape from the typical city centre's hubbub and provided a chance to relax.
The easiest way to reach the top of the mount is to use the funicular, however personally I always preferred to hike and enjoy the trees, the presence of many cacti and very often a nice breeze. The more I went up, the more the city's noise started becoming inaudible and this made me always experience the feeling of peace.
Once arriving at the top, the Lycabettus offers a heart-breaking and marvellous panoramic view of Athens. What always appeared to me first was the Acropolis that with its stunning Parthenon seemed to watch over the city, giving the feeling that the past and the present perennially coexist.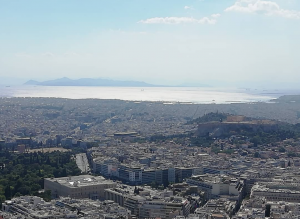 Specific landmarks such as Syntagma Square and the neighbourhood of Plaka can be also recognisable together along with the Panathinaikos stadium. From the hill, it is also possible to note the mountains surrounding the city and, at the same time, to easily see the port of Piraeus.
At the top of the mount, a small white-washed church, built in the nineteenth century and dedicated to St. George, is also located together with a bell tower (figs 3-4). The church hosts valuable and ancient paintings, as well as peculiar religious artifacts.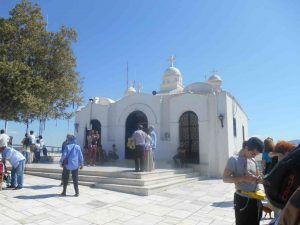 Mount Lycabettus is a popular destination, many visitors stop at the restaurant very near there enjoying traditional Greek meals and drinking the essential Greek coffee. Also many like to visit it in the evening during the summer when warm tones of orange, purple, and pink contribute to making an even more beautiful view.
During my stay in Athens, I really appreciated being close to this little tranquil oasis. It considerably helped me to reduce the usual stress that a big city produces, to take some time to meditate, to enjoy the Athens fascinating panorama and to take some stunning pictures.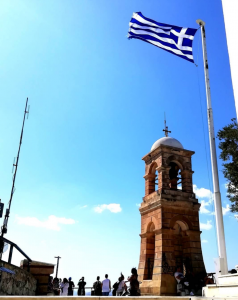 Ph. © Dr Barbara Mordà