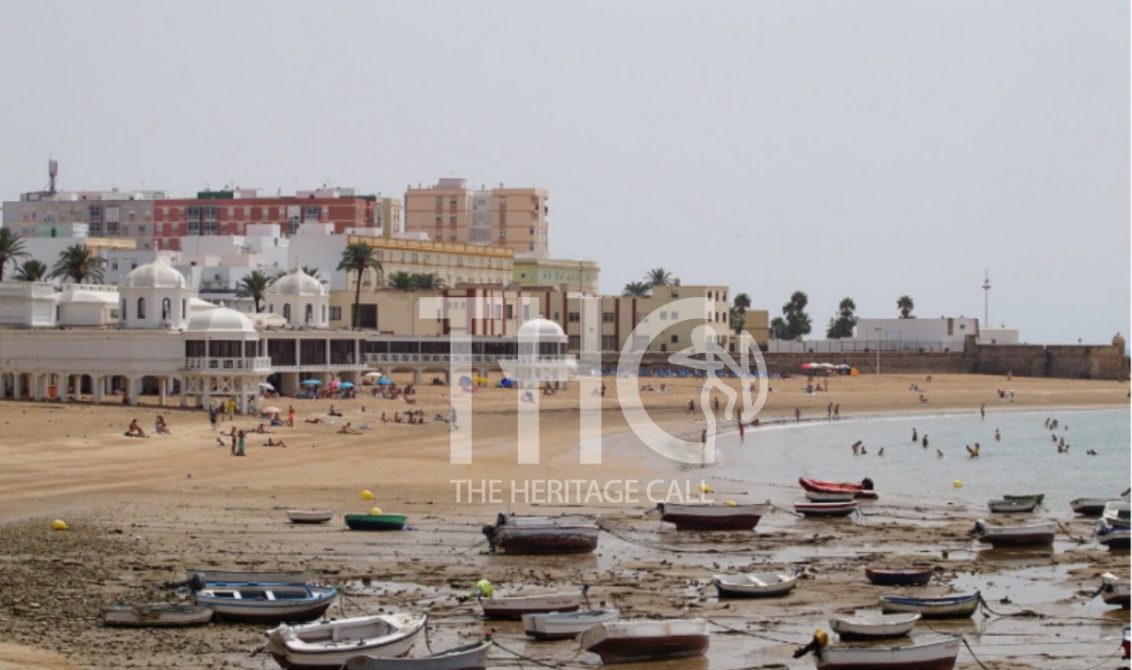 Dr María del Mar Rodríguez Alcocer, holds a Phd in Ancient History at the Complutense University of Madrid and she is very passionate about cultural heritage.
The Spa of Nuestra Señora de la Palma y del Real is located at the beach of La Caleta, in Cadiz (Spain). The white building was erected in 1924 and opened its doors in 1926. It is based on the plans of the architect Enrique García Cañas with some modifications of Juan José Romero Aranda.
The spa was built as a consequence of the poor conditions of the previous wood construction from the 19th century and this time had a new structure of reinforced concrete. This structure highlights the basement of the building which in fact is the most evident Modernist characteristic of the place. But there are other constructive styles in it, such as the orientalising historicism of the domes – typical of the English spas, or the semi-circular general structure which is influenced by Classical structures such as the sanctuary of the Fortuna Primigenia in Praeneste.
The entrance to the building is located on the city wall where two elevated long porches are opened onto the beach. Inside these porches are the different rooms.
Between 1936 and 1943 the spa was a Naval School and in 1958 it returned as a place of leisure and as a space for parties and banquets. In 1975 it was abandoned until 1990 when it was declared to be a Place of Cultural Interest. Today the spa is the Underwater Archaeology Centre of the Andalusian Institute of Historical Heritage.
I decided to discuss this place because it is the symbol of Cadiz, the so-called tacita trimilenaria (trimillenary cup). Indeed, the Phoenician sanctuary of Baal (the Chronion in Greek sources) was on one of the long capes that embraces the beach. Of course, this is an important reason for me, as an Ancient Historian, to see, not just the spa, but the whole place of La Caleta as a noteworthy place to visit. However, what makes this place magic for me is the conjunction of the spa with the beach, the two fortresses of Santa Catalina and San Sebastián protecting it and the little boats of La Viña's working class neighbourhood. La Caleta is the combination of the city's history, with the welfare of the past (Cádiz was an important trade city during the 18th and 19th centuries) and the beauty of the nature and identity of its current inhabitants.