Welcome to The Heritage Call platform!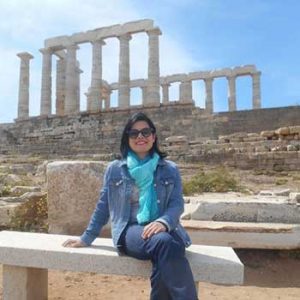 I am Barbara Mordà and I am an archaeologist.
I started my academic studies in Italy and received a BA in Cultural Heritage from the University of Calabria (Italy) and a MA in Archaeology and the Conservation of Archaeological Heritage from the Ca' Foscari University of Venice (Italy). Finally, I hold a PhD in Classical and Archaeological Studies from the University of Kent (UK).
Throughout my academic training, I reinforced my pre-existing interest in heritage, and in the archaeology of the prehistoric and classical Mediterranean, all while expanding my knowledge through my studies in anthropology.
I have had great opportunities to travel and study in Greece for a while and this helped me to appreciate several new aspects that I link to the conservation, enhancement and management of heritage, as well as the development of long-term, sustainable plans to engage in cultural tourism. This valuable opportunity allowed me to meet many experts and people with local knowledge who enriched my academic and cultural life.
As an archaeologist, I believe that my role is not only to make scientific contributions to advance human knowledge, but also to be a strong promoter and preserver of heritage. I think that the knowledge, preservation and promotion of heritage can truly increase the intercultural dialogue and significantly reduce prejudices about cultural diversity.
Selected Publications
Magazines
Mordà, B. (2022). The new life of Siacci fort and its community. Heritage Daily, [online] 14 February 2022.
Mordà, B. (2021). The Easter Trees of Davoli: Following the Naca Procession in Southern Italy. Smithsonian Magazine – Smithsonian Center for Folklife & Cultural Heritage, [online] 2 April 2021.
Mordà, B. (2020). Travelers & Agriturismo. People are Culture, [online] 13 October.
Papers
Mordà, B. (2019). Toward a social understanding of the talismanic stones through their imagery. Creta Antica, 19, 173-192.
Conference papers
Mordà, B. and Grammatikakis, G. (2020). Mineral identification and raw material characterization through Raman spectroscopy of Minoan talismanic sealstones. Proceedings of the 4th Meeting for the Archaeological Work in Crete, 25th November 2016, Rethymnon, Crete, pp. 300-313.
Mordà, B. (2016). Talismanic stones and Minoan politics. Proceedings of the 12thInternational Congress of Cretan Studies, 24th September 2016, Heraklion, Crete, pp. 1-9.
Conference presentations
Mordà, B. (2019). Crafting and marketing in Neopalatial Crete: the talismanic seals as a vehicle of social ideas. 25th the Annual Meeting of the European Association of Archaeologists, 4-7 September 2019, Bern, Switzerland.
Mordà, B. (2018). Sealstones as 'containers' of agency: some observations on the talismanic stones. Proceedings of 1st International Conference "No Escape?" for Postgraduate Archaeologists, 23rd March 2018, University of Heidelberg, Germany.
Mordà, B. et al. (2017). Predicting seismic risks of artefacts through the Building Information Modelling (BIM). Paper presented at the 4th International Conference on Heritage and Management, 24th September 2017, Elefsina, Greece.
Public Talks

Mordà, B. (2020). Dall'eredità culturale alla valorizzazione sia del bene che della comunità locale. CENTRO STUDI – MEDFORT, [online event], 2 Dec.

Mordà, B. (2020). Il terremoto e l'impatto sull'individuo. CENTRO STUDI – MEDFORT, [online event], 28 Dec.
Given Interviews
Mordà, B. (2020). The Heritage Call: un progetto per il patrimonio culturale globale. Interviewed by L. Gagliardi.  In Due Minuti. 27 June 2020.
Memberships
http://www.interpret-europe.net/feet/home/